[Update July 24]
Thanks, Ryan, for a fantastic talk! Thanks, Julian, for being a wonderful moderator!
[end of update]
We are pleased to welcome the PreProBono Public Interest Guest Speaker for this coming Saturday (July 28), Ryan Park (and his nachos)! If you are not a part of our Fellowship program, but still would like to participate, please RSVP here.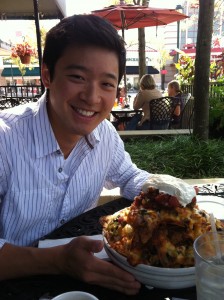 Bio: Ryan Park is a law clerk for the Honorable Robert A. Katzmann, of the Second Circuit Court of Appeals, before which he clerked for the Honorable Jed S. Rakoff, of the Southern District of New York. He graduated from Harvard Law School, summa cum laude, in 2010. During law school, Ryan was a student attorney in the Post-Eviction Foreclosure Housing Clinic, where he represented tenants facing eviction in Boston Housing Court. He also interned at the legal adviser's office at the U.S. Department of State, at the Human Rights Law Network in Delhi, and at the Documentation Center of Cambodia, in Phnom Penh. After completing his clerkship with Judge Katzmann this fall, he is returning to the Department of State as an Attorney-Adviser. He is a graduate of Amherst College.
Ask Ryan your questions about public interest law:
If you're curious about Ryan's experiences in law school or in public interest law, please submit your questions (before this Saturday, July 28) in the comments section below.
Posted In