7Sage's new digital tester
The LSAT is changing in August 2024! To help you prepare, we've upgraded our digital testing platform to include the option to practice for the new, August 2024 LSAT format. Now, when you're taking a PrepTest, you can choose from three versions:
Current - LG/LR/RC If you're taking the test before August of 2024, choose this version. This is the modern, three-section LSAT which will remain in use through the June 2024 exam.
August 2024 - LR/LR/RC The new LSAT format, set to become standard starting with the August 2024 exam.
Legacy - LG/LR/LR/RC The classic, old-school PrepTest format you know and (maybe) love. Take your PrepTest in legacy mode if you're looking to simulate taking all four sections of the test in one sitting.
How to take a PrepTest in the new, August 2024 LSAT format
Go to the 7Sage website. On the menu, navigate to Practice→PrepTests. Select a PrepTest from the list and click on it.

Click the drop-down menu to the right of the PrepTest number, and select the version of the test you'd like to take. For the August 2024 version, select "August 2024 3-section LSAT (LR, LR, RC)."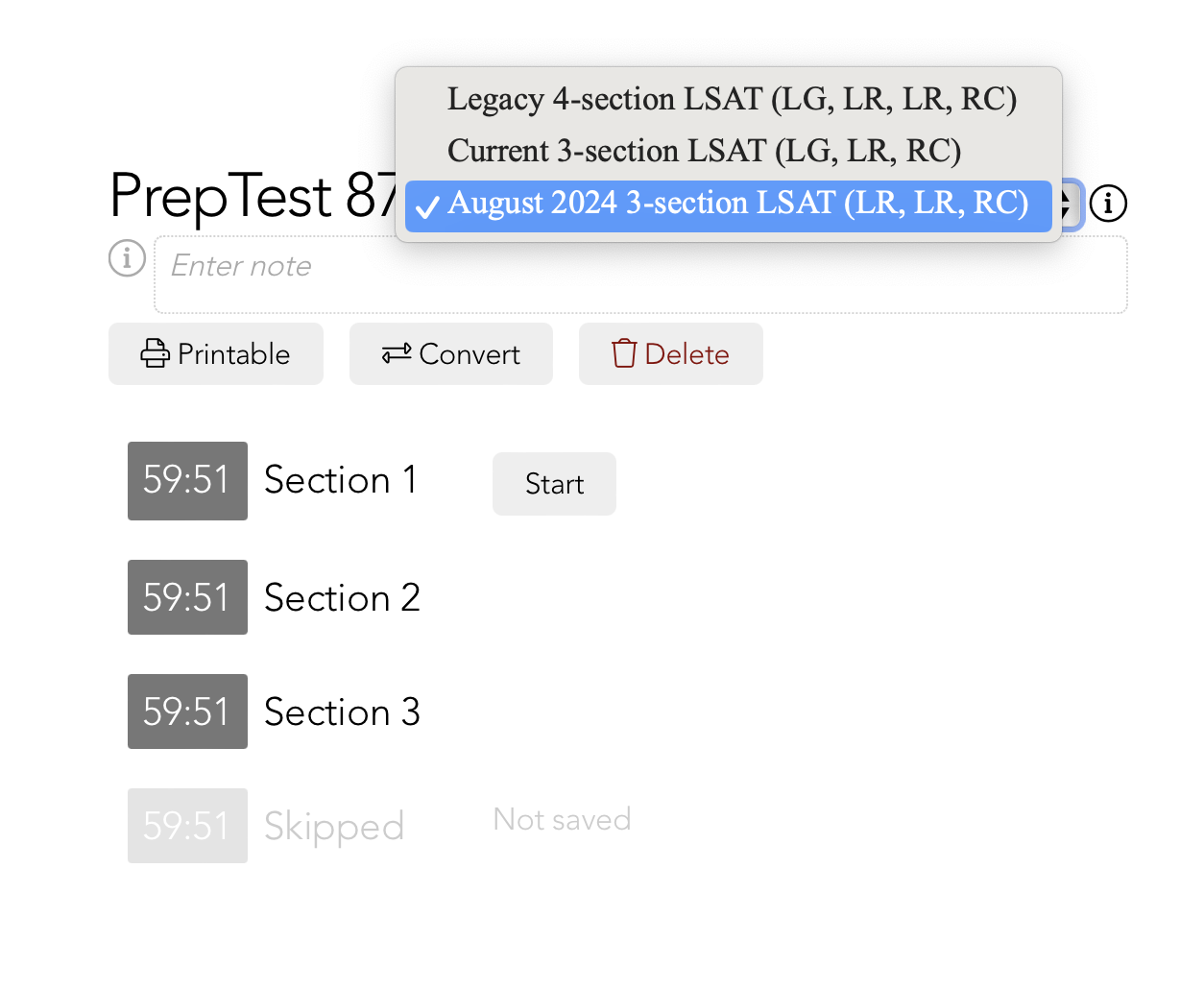 Then, simply click "Start" and take your PrepTest as normal.
How and why is the LSAT changing in August 2024?
In October, LSAC announced that starting in August of 2024, the LSAT would no longer have a Logic Games section. Instead, there will be a second scored Logical Reasoning section. This change came in response to a settlement LSAC made with two blind test-takers, who argued that the Logic Games section is impossible for many people who are visually impaired. 
How should test-takers prepare for the new, August 2024 LSAT?
Since Logical Reasoning will now account for a larger percentage of your score, it's important to study with a focus on building the formal logic skills necessary to tackle these questions. We've recently upgraded the Logical Reasoning section of our Core Curriculum. The new version will help you study for the new, two-LR test.
If you're planning on sitting the exam in August 2024 or later, you should also be taking PrepTests in the new format, with two scored LR sections. Simply select "August 2024" when you begin your PrepTest to simulate a two-LR, one-RC version of the test.
Posted In